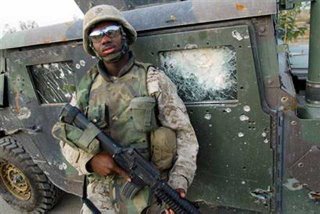 Regarding what "our troops" are fighting for, it comes out to a lot more than nothing, just nothing good.
They are making politicians, bureaucrats, and their military-industrial complex cronies rich.
They are expanding the U.S. global hegemony
as well as the Israeli middle-eastern hegemony.
They are securing strategic territory for bases and (potentially) diminishing strategic resources.
Also, endeavoring toward a colossal project that no individual or group of individuals could ever hope to achieve through voluntary means; namely, high-industrial age mechanized state warfare.
This last, for some, is its own justification.
Thankfully, as 4GW theory convincingly shows, this being the information age, the institution of the state can't even successfully fulfill its original purpose for existence; the perpetration of mass warfare.